"Think you're a fisherman?"
That's how the poster starts and underneath you can read: "PROVE IT!!" Notice the two exclamation marks!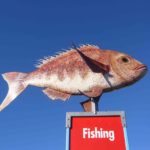 The poster advertises the Waitiki Grand Slam Fishing Contest 2010, October 1st – 2nd. Back by popular demand. On the poster it tells you also what you have to catch: One snapper, one trevally, one kahawai and a mussel.
****************************
In Matthew 4:19 the Lord Jesus Christ says, "'COME, FOLLOW ME,' JESUS SAID, 'AND I WILL MAKE YOU FISHERS OF MEN.'" (Mark 1:17)